Ashley **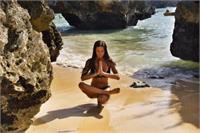 Ashley ** instructs the following:
Start your day with this invigorating practice! An all levels Vinyasa class, experience the benefits of waking up to yoga in a heated room and soothing music as you stretch your body, awaken your mind, and fuel your soul. This class incorporates a series of sun salutations to work out any tension & tightness from your nights slumber, leaving you feeling energized, rejuvenated, and prepared to flow through your day with ease.




This class will integrate elements of the Warm Vinyasa Yoga together with elements of the Bikram Yoga to create an extraordinary 'Fusion' of these two profound forms of Yoga.

The class will occur in a warm environment and is suitable for all levels...Join us!!!




Suitable for all levels, this playful, powerful, energetic Vinyasa class linking breath with movement is designed to create heat in the body using a flowing series of postures. The results are increased strength, flexibility, balance, and clarity of mind. With a heated room set to 90-95, and an upbeat playlist, this energetic practice will leave you ready to flow around the obstacles that come your way, empowering your strength to face anything!




Candlelight Restorative Flow soothes the body and quiets the mind with slow, gentle movements & soft music to promote relaxation , restoration and rejuvenation to the body. This class incorporates a series of moon salutations to work out any tension & tightness from your daily activities...resulting in improved flexibility, reduced stress and restful sleep.